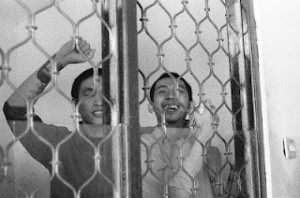 Below is the link of video recording of our brothers and comrades, imprisoned combatants; Billy Augustan and Reyhard 'Eat' Rumbayan. They sang a short song as a metaphor of their attitude and brave choice of their life's and proudly declared political responsibility after successful attack against ATM in Jogjakarta.
We share it while shout in the street;
Long live the rebels !
Don't suppressed, don't sad !
No combatants left alone in this war !
For total destruction of the society !